News Flash
Your regular update
---
This is the place where you will find updates and interesting or important news about what is going on in our movement and especially here, on our site.

-- August 02, 1997
Changes! =)
The mirror in Poland is no longer valid due a too low connection speed for its maintenance. Please remove this link from your pages. Visitors to this address will be redirected automatically to our Wineasy mirror.
The text-only site at Wineasy has moved to another, faster, server in the U.S. Please update your links. The new address is:
http://cintamani.iskcon.net/txt-only/index.html
Visitors to the old Wineasy text-only address will be redirected automatically.
Updates! =)
The FAQ section of the Talk To Us page has been updated. The catagories were redefined and a lot of material was added.
The following essays in the philosophy and devotee sections have been updated:
The World Address List has been updated. Still missing are the proper addresses for Canada. Please send me a recent listing if you have one.
The text-only version has been fully updated.
We have a new ISKCON Approval logo. Please, all webmasters who maintain sites mentioned on the TCP homepage listing replace the old logo with this new one or, if you did not have a logo yet, add it to your main page.

The logo should be used with the following link and ALT text (add this code to your source document):

         <A HREF="http://www.shamantaka.org/approved/app-list.htm">
         <IMG SRC="app-logo.gif" WIDTH=96 HEIGHT=31 BORDER=0 ALT="[ISKCON approval logo]">
         </A>
   
Extentions! =)
We have a new, extra, U.S.A. main site at:

http://cintamani.iskcon.net/index.html

Our gratitude goes out to Krishna Kirtan prabhu and the rest of the ISKCON.NET crew for this great service. Please support this wonderful initiative by former gurukula students. It is a nice way to get involved in Internet preaching and to give our second generation the opportunity to show their responsibility and expertise. Please contact Krishna Kirtan prabhu for more information.

Four new essays have been added to the roots catagory of the philosophy section:

Krishna Art Gallery.

Also available on all graphics enhanced TCP mirrors (Iskcon.net, Algonet and Wineasy).

Feedback is welcome.

Several Info-bots have been activated to fulfill general information requests. They can be accessed by sending an e-mail (without subject or contents) to the following addresses:

info@shamantaka.org: To get an ASCII file with general information on our Web site, what to find where, how to get books, subscribe to HK publications, etc.

faq@shamantaka.org: To get an ASCII version of the latest TCP FAQ file.

address@shamantaka.org: To get an ASCII version of the latest ISKCON address listing.

hkpage@shamantaka.org: To get an ASCII version of the latest Hare Krishna homepage listing.



---
-- June 03, 1997
Inauguration of ISKCON Bangalore
11:00, May 31st, 1997. Bangalore, Karnataka, India.
The President of India, Dr. Sankar Dayal Sharma, amidst beautiful artistic arrangements and high security inaugurated the ISKCON Bangalore Complex. The Complex was given the special name of "Sri Caitanya Mahaprabhu Centre for Advancement of Culture". The President gave a beautiful speech glorifying ISKCON's Founder-Acarya Srila A.C. Bhaktivedanta Swami Prabhupada with chosen words.
The President stated wonderful things like:
"On the occasion of the birth centenary of the founder of ISKCON, Shri A.C. Bhaktivedanta Swami Prabhupada, I pay my tributes to this enlightened soul. Following in the footsteps of Sri Caitanya Mahaprabhu, Srila Prabhupada, with determination and devotion has propagated the message of our ethos of peace and harmony."
"ISKCON has spread the message of Bhakti throughout the world. Over the years, the Society has provided relief and succour and has brought peace and harmony into the lives of millions of people."
"It gives me great pleasure to associate myself with the inauguration of the Centre for Advancement of Culture of the International Society for Krishna Consciousness (ISKCON) here in Bangalore."
"Srila Prabhupada's work has given new meaning and direction to the lives of thousands of people. In India, the activities of ISKCON are rekindling the latent knowledge and awareness among our own people of our great spiritual and cultural heritage."
"With these words, I have great pleasure in inaugurating the Centre for Advancement of Culture of the International Society for Krishna Consciousness. I wish the Centre many years of fruitful endeavor in the service of society."
At the function also present were: Governor of Karnataka Sri Khurshid Alam Khan, the Chief Minister of Karnataka Sri J.H. Patel, the former Chief Minister Sri Ramakrishna Hedge, and many other distinguished guests, Ministers, Members of Parliament, etc.
From ISKCON's side HH Lokanath Swami was present on behalf of the Centennial and HH Jayapataka Swami as the local GBC. No foreign devotees were invited due to security restrictions.
---
-- May 04, 1997
New Home
The Complete Picture has a new home. Please update your links if needed. The new URL is:
http://www.shamantaka.org/index.html
This server is located in the U.S. It is fast. Please try it out!
The Algonet address remains valid, but is now a secondary Swedish mirror due to it's slow access time. The text-only version of TCP can also be accessed from this new server.
A list of mirrors can be accessed here.
NOTE: The socrates.berkeley.edu address is no longer valid. Please remove it from your listings or change it to www.shamantaka.org.
Vaishnava Calendar
The Vaishnava Calendar for 1997/1998 is now available. Calendars for over 400 cities in 81 countries can be downloaded. More calendars will be added in due course and, if we get it together, a feature will be implemented that lets you choose a country and city anywhere in the world and will then create a calendar for that specific place that you can download. All calendars come in .zip format and are less than 8 kilobytes in size.
Address List Update
The address listing has gone through a major update. Many of the U.S. listings were outdated. We still need some confirmations on several (obsolete) U.S. addresses. Many E-mail addresses for temples were added.
If you can, kindly take the trouble to check the addresses of your country of residence and let us know if the addresses are correct. We am especially interested in confirmations from Brazil (including CEP codes), as quite some of their addresses seem to be outdated as well. Also, additional phone numbers, fax numbers or e-mail addresses are welcome.
The Main Listing and Full Listing have merged. It's faster and easier to access. Please update your links.
/main/address/full.htm will be obsolete after the next 3 months on all mirrors. Please change it to /main/address.htm
The GBC/BBT listing is updated and now also lists the countries a GBC member is responsible or co-responsible for.
Also, a related organizations listing was added with the contact addresses of ISKCON related organizations, such as the BBT, BA, BI, ITV, IYM, etc. If you think a certain organization should be added, please contact me. If you want to submit a contact address for this listing, please include the following information: - full address (no abbreviations) - phone number(s) - fax number(s) (if any) - e-mail address (if any) - short description of the organization, its goal and services
Krishna Art
The first part of the Krishna Art gallery is up. Please check it out and let us know what you think about it.
Meeting Krishna on IRC
Our IRC channel on the Undernet has changed its name from #Along_the_edge to #KrishnaChat.
This channel serves as a meeting place for devotees world wide and whoever else has an interest for Krishna consciousness, ancient Indian culture, philosophy, Vedic scriptures, reincarnation, etc.
We try to maintain a friendly atmosphere with plenty of opportunity for questions, discussions and chilling out. Please keep in mind though that the framework of the channel is Krishna consciousness. We respect all other convictions and even if you do not follow or believe in Krishna you are still welcome to lurk around. ;-)
Our goal is to have this channel manned 24 hours a day. To reach that goal we need the participation of devotees and sympathizers world wide, covering all world time zones.
An elaborate FAQ on IRC is now available which features detailed information on how to connect to the IRC network, IRC clients, etiquette, error messages, various IRC networks, network structure, channel service, and links to various resources.
---
-- December 13, 1996

Totally revised text-only version up and running. Essays added to the Philosophy and Devotees sections:

FAQ and Profiles sections were added. Testing two new mirrors, in Poland and the United States. Updated and expanded: Krishna Consciousness at Home and Address listing.

New Release!

Suhotra Swami
Substance and Shadow
The Vedic Method of Knowledge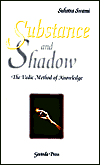 Veda means knowledge -- certain knowledge. This book challenges the reader to review, in the light of Vedic knowledge, the perennial questions of life: does the world within the reach of our mind and senses really exist? Is there something beyond this world? What is truth and what is illusion? What is the meaning of meaning?
In clear, penetrating language, Suhotra Swami takes the reader on a thoughtful and often humorous walk across the Vedic setu, the bridge leading from doubt to certainty, darkness to light, shadow to substance. The view from the bridge encompasses ancient India and Greece, modern science, the paradoxes of philosophy, and, finally, the answer to the question "why?".
An elaborate glossary features more then 300 entries of Sanskrit, Greek, Latin and English philosophical terms. Both the scholar and the general reader will find Substance and Shadow -- The Vedic Method of Knowledge illuminating.
Published by Govinda Press 1996
352 pages, hardbound; ISBN 3-906347-35-4
Price: DM 26.00 (German Marks)
Orders:
Govinda Press
Schellenberg 11
79798 Altenburg
Germany
Fax +49 (07745) 96678